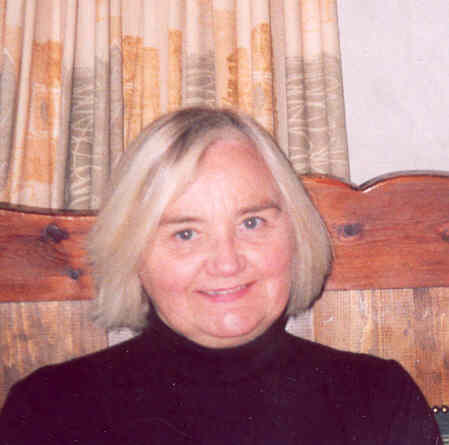 Attracta Harron
Born 31st Jan 1938
Died 11th December 2003
-----------------
May She Rest in Peace
--------------------
Evidence Summary

Reports on Sentencing
By Olga Bradshaw
Details of Hamilton's previous offence
can be found here
but be warned that it is extremely
harrowing reading
Notes
This was originally a personal website.

Attracta Harron was my sister-in-law and when she first went missing, I turned the site over to a central information point for those involved in or interested in the search for her.

When it became apparent that Attracta had been brutally murdered, the site became an information point for the events leading up to and during the trial.

This has been an immensely traumatic period for our whole family. We sincerley appreciate the help, prayers and sympathy extended to us, in many cases by total strangers.

It has been an inspiring reminder that though our world has many bad and evil people in it, there are far more good people than there are bad ones.

Martin Harran
ATTRACTA HARRON
(neé O'DRISCOLL)
___________
Attracta Harron went missing on the morning of 11th December 2003 when she was returning to her home from Mass in Murlog, outside Lifford, Co. Donegal.

Over the following months, amidst intense media coverage, her family searched desperately for her throughout Ireland in the hope that she was still alive.

On 28th March, 2004, 21 year old Trevor Hamilton from near Sion Mills (about 3 miles from Strabane) was charged with Attracta's murder.

On 5th April, 2004, police using specially trained sniffer dogs recovered Attracta's body from a shallow grave beside a stream outside Sion Mills.

On Easter Sunday 11th April, 2004 Attracta was finally laid to rest in the cemetery attached to Murlog church - the church where she was married and were she had attended mass on the morning she disappeared.

Hamilton's trial commenced on 27th February, 2006 and on 12th April 2006 he was found guilty of her murder.

On 4th August 2006, Hamilton was given a 'whole life' sentence for the brutal murder of Attracta, the first such sentence passed in Northern Ireland since the introduction of The Life Sentences (Northern Ireland) Order 2001.

Hamilton launched an immediate appeal against both the verdict and his sentence. At the appeal hearing on 19th May, 2008 Hamilton's legal team announced that he had dropped his appeal against the verdict but was continuing with his appeal against the whole life sentence.

On 20th June 2008, the Appeal Court quashed Hamilton's 'whole life' sentence and instead imposed a 35 year tariff; the judge emphasised that the 35 years is a minimum before Hamilton can even be considered for parole and even then, it will only be considered if he is no longer a threat to the public. He told Hamilton that based on his record to date, he is likely to spend the rest of his life in jail.

The full Appeal Court Judgement can be found here
Justice McLaughlin's full statement when passing sentence (PDF)
MASRAM Report on how the Hamilton case was handled by the various agencies (PDF)
(Multi Agency Sex offender Risk Assessment and Management)
Press release from NI Courts Service:
Mr Justice McLaughlin, sitting in the Crown Court in Dungannon, today confirmed that Trevor Hamilton will spend the rest of his life in prison for the murder of Attracta Harron in December 2003, Trevor Hamilton was convicted of murder on 12 April 2006 after trial before a jury,
.
In passing sentence, Mr Justice McLaughlin, said that:
"The manner of her death was callous and brutal in the extreme … By whatever mechanism the fatal injuries were inflicted there can be no dispute that very significant force was used and it was applied pitilessly with chilling cruelty and without regard for the suffering of a helpless woman unable to escape, fight back or otherwise defend herself."
The sentencing process involves the judge establishing the starting point for the sentence and considering whether the mitigating and aggravating factors relating to the accused and the offence may produce a variation of the initial starting point.
In determining the sentence, Mr Justice McLaughlin considered that there was no dispute that a higher starting point should apply and that there were no mitigating factors. He told Trevor Hamilton:
"As the medical evidence shows you do not suffer from any mental illness or abnormality of personality. Your experiences of the criminal justice system were extensive and you were therefore fully aware of what was right or wrong and had much advice, direction and counselling to assist you. I do not consider it appropriate therefore to regard your age as a mitigating factor."

The judge then set out the aggravating factors including Trevor Hamilton's "appalling previous record"; the pattern of previous offending which showed a "complete failure to respond to the work of the various agencies and... devious behaviour on your part designed to mislead them to seek a more favourable outcome"; the concealment of the body and the destruction of evidence in a calculating and systematic fashion; the abduction of Mrs Harron when she was alone which must have added greatly to her distress and fear; and the fact that Mrs Harron was attacked when walking alone and therefore "vulnerable". Mr Justice McLaughlin also noted that, although the advanced state of decomposition of the body when found precluded evidence being found which might have established a sexual assault upon Mrs Harron, he was sure that her abduction was for a sexual purpose. He said that "this overwhelming inference is supported by the similarity of the pattern of your previous offending and by the fact that you have a proven "enduring predilection to predatory, sexual and violent offending against women".
Mr Justice McLaughlin considered whether the seriousness of the offence was such that he should, in effect, impose a "whole life tariff" or whether he should fix a minimum term and allow the Life Sentence Commissioners to determine whether Trevor Hamilton should be released at some date in the future should they conclude his continued detention was no longer necessary for the protection of the public.
In conclusion, Mr Justice McLaughlin said that:
"Having regard to the presence of a number of factors which attract the higher starting point, the major aggravating factors and the absence of any mitigating factors, a very high tariff figure is justified, indeed demanded in this case. The rapidity of your re- offending within months of your first convictions and later release from prison, the gravity of the offences committed [...] in 2000, the sinister similarity in the circumstances of those offences and the death of Mrs Harron together with the complete lack of any remorse on your part have however driven me to the conclusion that the demand for retribution and the need for deterrence of people who think and act like you that this is quite an exceptional case. A rapist who treats a victim as you treated [your victim in 2000] and who threatens to kill her to secure her silence, and who then kills another victim who he has abducted in these circumstances and does so within four months of completing a seven year term of detention must face a severe sanction in the absence of any mitigation.

What you did to Mrs Harron, a good and loving woman, was at once nauseating and horrifying, it was the stuff of nightmares and the epitome of the loss of innocence in our community. What that poor woman experienced as you prepared to execute her, whatever weapon you used to accomplish it, was so appalling that it demands retribution of the most severe kind. When the multiple aggravating factors are taken into account, particularly that you murdered her so soon after your release from prison from such serious offences, I conclude that only one punishment is appropriate especially as you have been given a second chance in the past but it had no effect on your behaviour.
I shall therefore order you to be sentenced to life imprisonment and that the release provisions of Article 5(1) of the 2001 Order [The Life Sentence (Northern Ireland) Order 2001] shall not apply to you. This is necessary in my opinion to satisfy the demand for retribution and to deter others from committing such appalling acts. You will in consequence spend the rest of your life in prison."
NOTES FOR EDITORS
1. The Life Sentences (Northern Ireland) Order 2001 requires the judge in a case such as this to fix a term of imprisonment, known as the tariff, which is intended to serve as retribution and deterrence given the seriousness of the offence. Guidance to judges in these cases is available in a Practice Statement which was formulated by Lord Wolff LCJ in 2002 but which remains the basis for sentencing in cases of murder in Northern Ireland (in the absence of legislation in Northern Ireland equivalent to the Criminal Justice Act 2003). The background events leading to the issue of the Practice Statement and its terms are set out fully in R v McCandless and Others [2004] NI 269.
2. Trevor Hamilton was convicted of five counts of indecent behaviour on 17 December 1999. He was placed on probation but was then charged and later convicted of rap e, attempted buggery, indecent assault and making threats to kill in connection with offences which were committed on 16 February 2000. He was sentenced to seven years imprisonment to be followed by one year's probation and was released on 18 August 2003. On release, he was required to undertake a programme for the prevention of sexual abuse and was subjected to visits and contact by the Probation Service. However, within four months of his release he had abducted and murdered Mrs Harron.

Ends

---
----------------------------------
Justice McLaughlin's full statement when passing sentence (PDF)
MASRAM Report on how the Hamilton case was handled by the various agencies (PDF)
(Multi Agency Sex offender Risk Assessment and Management)
Evidence Summary
(Report by Olga Bradshaw, Strabane Weekly News , on the Prosecution's Opening Statement)